Dec - 05
2019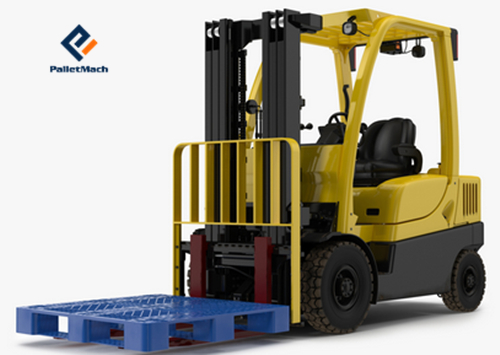 13 Plastic Pallet Advantages That Will Save Your Supply Chain Cost
If you're operating any form of business, one of the greatest challenges is optimizing efficiency in the supply chain, freight.
That is, your ability to transport items from point "A" to "B" at an affordable cost.
By this I mean safe handling of products and convenient lifting process as you can see below:
Today, you have the freedom to choose either wood pallets or plastic pallets.
Even though the two can serve the same purpose, the latter has many advantages.
For instance, plastic pallets guarantee unmatched cost and time-saving.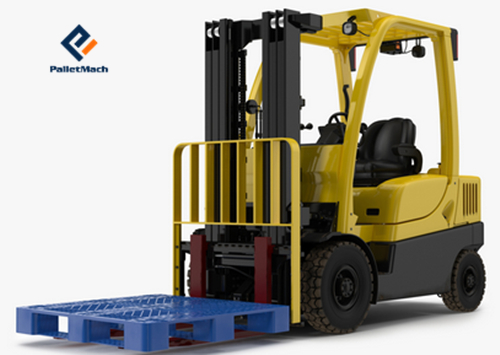 A plastic pallet resting on a forklift.
This is the reason why these pallets are popular in modern industrial setups.
In this article, I am going to share with you 13 plastic pallet advantages that can help you save costs in the next supply chain.
Generally, plastic pallets are:
Exempted from ISPM – 15 regulations
Lightweight
Environmentally friendly
Known for space-saving features (some designs)
Highly durable with long service lifespan
Hygienic and easy to clean
Safe to handle
A perfect branding tool
Dimensionally stable
Resistant to most weather/environmental conditions
Known for their attractive look and design
Easy to access and handle with a forklift
Available in many design options (simple & complex)
As you can see from this short summary, there are so many plastic pallet advantages that make it a perfect accessory for any supply chain business.
These cannot be compared to wood pallets.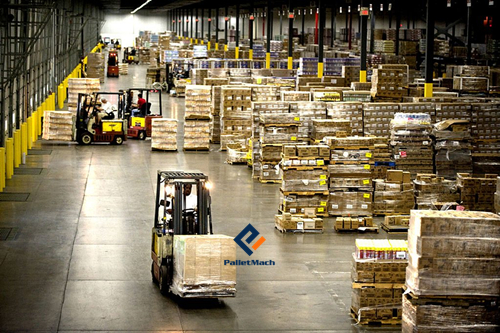 Now, let me discuss each of these advantages in details so that you may understand exactly what I am talking about:
Plastic Pallets are Exempted from ISPM – 15 Regulations
The International Standards for Phytosanitary Measures No. 15 (ISPM 15) requires that you should treat all wood pallets with a thickness greater than 6 mm.
This is a requirement when you're shipping products between two countries.
It is a regulation that aims to prevent the spread of insects and diseases.
Therefore, you'll have to treat wood pallets through:
Heat treatment where you can use steady heat, mobile heat or portable chamber process
Methyl bromide; this basically involves fumigation
So, what does this imply?
Treating wood pallets come with an extra cost, which may increase the cost of shipping in the long run.
Again, your pallets will through various inspections at the international port of entry.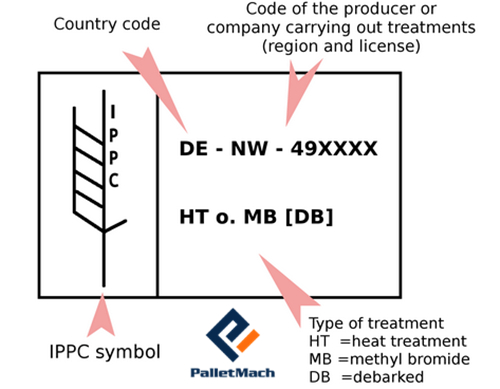 This mark shows details of the IPPC standard for wood pallets.
Normally, pallets that do not comply are detained by the authorities.
In short, this will result in unnecessary delays that are obviously costly.
You can easily avoid this back-breaking task by using plastic pallets.
This is because plastic pallets are exempted from the ISPM-15 regulations.
Ordinarily, plastic pallets neither harbor wood-boring insects nor spread wood-related pests/diseases.
Therefore, you don't have to worry about the authorities detaining your products or regular treatment process.
You can export or import freely from any country.
Basically, this is one the plastic pallet advantages that will save you from spending extra money during shipping.
Plastic Pallets are Lightweight Product Handling Equipment
During shipping, loading or offloading products in the supply chain, weight is a major concern.
Since you'd wish to reduce extra costs due to weight, it is important to avoid anything that will add even an extra kilogram.
Plastic pallets have a significant weight advantage over wood pallets or those made from other materials.
Therefore, it implies that:
You can save on shipping costs, especially where the freight forwarder charges per unit weight.
Handling product will be easy since you don't need sophisticated weight lifting equipment that will be costly.
Quite a number of exporters and importers who use plastic pallets do save a reasonable amount of money.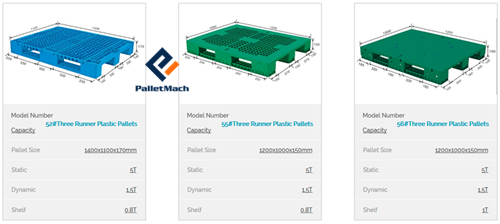 These are lightweight plastic pallets.
In most cases, you'll find those plastic pallets with the same size and design as wood pallets are approximately 27% to 34% lighter.
This implies that the cost of shipping plastic pallets will be lower than that of wood pallets.
Plastic Pallets are Environmentally Friendly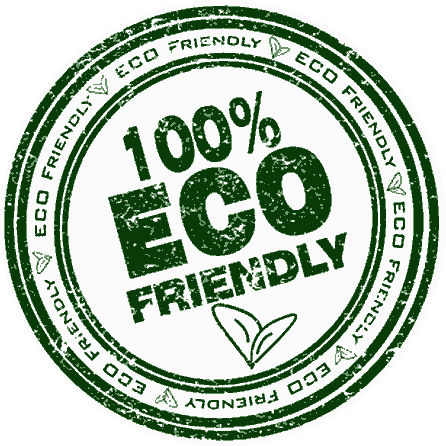 Plastic pallets are molded as per the ISO 14001 Standards.
This makes plastic pallets a perfect choice for businesses that are environmentally conscious.
By adopting plastic pallets, you'll be reducing any activities that may have adverse impacts on the surrounding environment.
Why do I say so?
First, failure to control fumigation of wood pallets properly may cause environmental pollution.
I am sure you'd not want this.
Second, by adopting plastic pallets, you'll be saving trees.
This is because you don't need wood to make plastic pallets.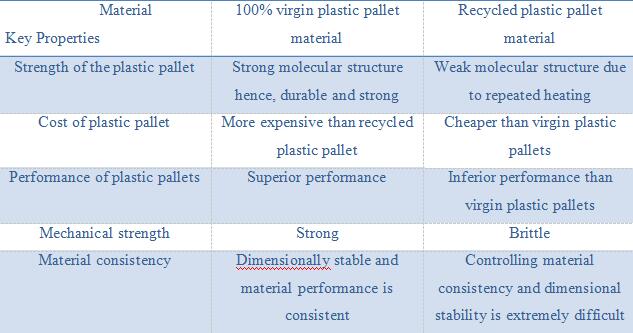 Comparing plastic pallets molded from 100% virgin plastic and recycled plastic.
Third, plastic pallets are 100% recyclable.
That is, if something happens to the pallet, you can recycle it to make new ones.
It is for this reason that some vendors have buyback programs where they buy damaged pallets and recycle them.
By the way, recycled plastic pallets are more affordable compared to those made from 100% virgin PP or HDPE plastic materials.
As you can see, there are quite a number of plastic pallet advantages as far as saving the environment is concerned.
Plastic Pallets Save a lot of Space (Especially during Return Trips)
In any form of shipping, both weight and space are key variables that determine the cost.
Let me show you how to save space with plastic pallets:
First, you need to choose nestable plastic pallets.
Why should you go for these pallets?
Here is the answer: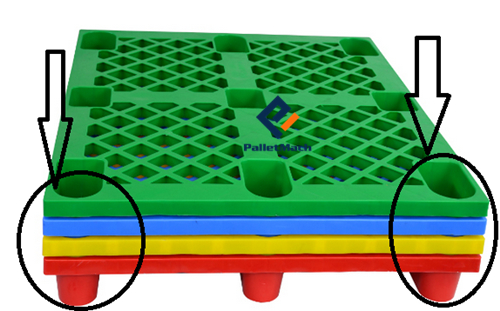 These are example of nestable plastic pallets
You can compare them with these: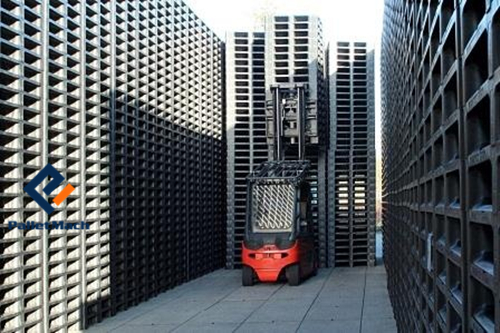 The answer is quite obvious.
Trust me, during the return trip, when the pallets are empty, you can save more than a third of the available space.
The scenario is the same when it comes to storing pallets in a warehouse.
Second, plastic pallets have a thin cross-section structure when you compare them with wood pallets.
The good thing is that, even with the thin structure, plastic pallets can still hold more weight.
In short, the space-saving feature is one of the fundamental plastic pallet advantages that will help you save a lot of money.
You can learn more about other designs of plastic pallets from this article: Difference between Stackable and Rackable Plastic Pallet, Find Which One is Perfect for You.
They are Highly Durable with Long Service Lifespan
I won't lie to you:
Plastic pallets are more durable than wood pallets.
Wood pallets have a lifespan of 3 to 5 years.
This is not the case for plastic pallets that have a life span of up to 10 years.
As long as you load the plastic pallets to correct specifications, these accessories can serve you for more than 250 trips.
It is for this reason that plastic pallets have become popular in leasing businesses.
They can withstand shock and handle products safely.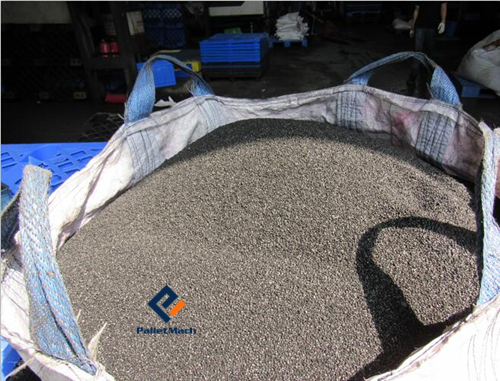 Plastic pallet material
Under normal circumstances, plastic pallets will neither break nor splinter.
These make plastic pallets viable investment in closed-loop systems (where you use pallets over and over).
Of course, this is attributed to the choice of material and manufacturing process.
Some of the most popular materials for plastic pallets are polypropylene (PP) and high-density polyethylene (HDPE).
Plastic Pallets are Hygienic and Easy to Clean
Do you know that microbiology tests have revealed pathogens in wood pallets?
Well, the truth is, plastic pallets offer a perfect product handling solution in the pharmaceutical, food and beverage industries.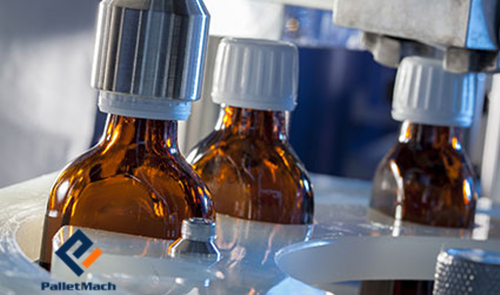 In fact, one of the key advantages of plastic pallets is the ease of maintaining a high level of hygiene standards.
You can clean the pallets by spraying water on their surface using a hosepipe.
This is not the case in wood pallets.
When you clean wood pallet with water, the surface will remain wet, thus, encouraging fungus growth.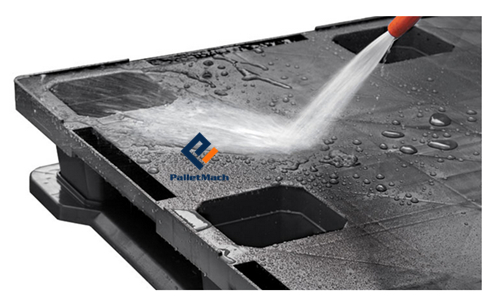 Cleaning plastic pallets using a hosepipe
With plastic pallets, you don't have to worry about termites or pathogens attacking your products.
The pallets will reduce the risk of product contamination.
Furthermore, the molding process produces a smooth surface that is easy to clean.
Remember, hygiene is a critical aspect since the cost of any cross-contamination can be unbearable to your business.
Plastic Pallets are Safe to Handle Plastic Pallets
Do you in making wood pallets, you can use almost 50 nails?
Well, this alone is a major safety concern, especially for those who will handle the pallets.
Plastic pallets are pressing molded, blow molded, injection molded or thermoformed.
Therefore, you don't need nails to fix any section.
A process of molding a plastic pallet.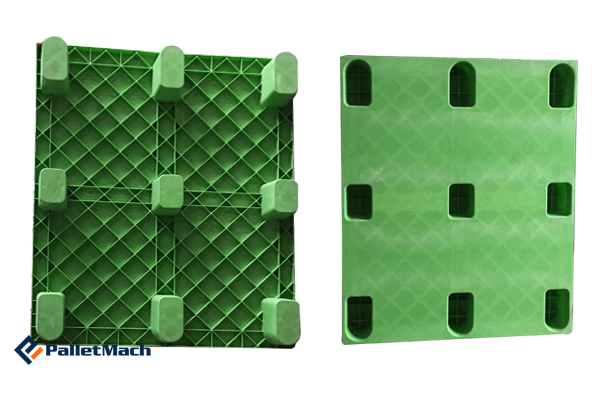 This implies that, plastic pallets do not have:
Rusty nails
Loose nails
Splinters
Protruding fasteners
Sharp edges
All these can either cause injuries to people or damage to products.
In both cases, you'll spend money either treating injured personnel or replacing products.
Even during loading and off-loading the pallets, your forklift will remain scratch free.
In short, with plastic pallets your workers will take care of all your shipping and storage needs efficiently.
This is because the staff will handle products with confidence knowing their safety is guaranteed.
Basically, safety is also one of the most critical plastic pallets advantages that can reduce cost in the supply chain.
You Can Easily Use Plastic Pallets to Build Brand (Marketing Tool)
How about using plastic pallets to market your brands, don't you think this is a viable idea?
Well, it is.
Good examples are the display plastic pallets that are popularly used by many stores for branding purposes.
Depending on your niche market, you can choose any type of plastic pallet and customize it for any marketing purpose.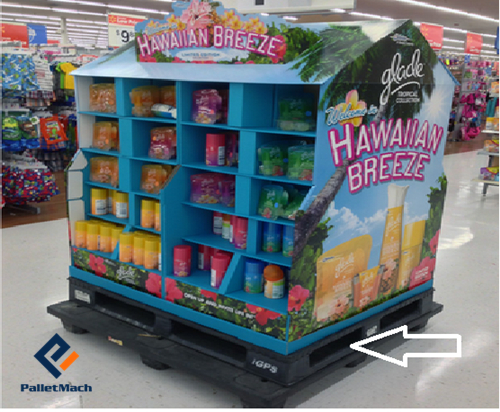 This is an example of a display plastic pallet.
Here is how to go about this:
You can custom make your plastic pallets to meet specific applications of your niche market. With this, clients in the same industry will have no option but, to go for your pallets. The process is not as complicated as most people perceive it.
Molding plastic pallet is a flexible process with unlimited opportunities. You should leverage on this to have your company logo on the pallets.
Choose a color that uniquely identifies your business.
Using this accessory as a branding tool is one of the rarely explored plastic pallet advantages.
Plastic Pallets are Dimensionally Stable
Plastic pallets are popular for their dimension stability, hence, improving performance in all product handling systems.
This feature makes it easy to automate the entire product handling process.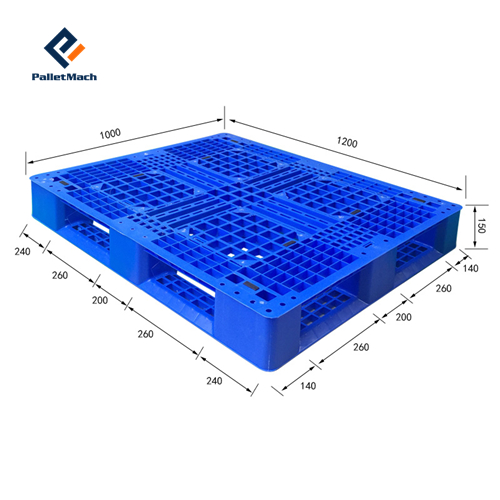 You can see the various dimensions of a plastic pallet.
The good thing about plastic pallets is that, when you subject them to the recommend load capacity, the following will remain unaltered:
Width
Length
Height
Block width
Entry width
Under clearance
This implies that all the dimensions of the plastic pallet will remain unchanged throughout the entire supply chain.
Therefore, you don't have to worry about any possibility of products getting damaged.
Plastic Pallets are Resistant to Most Weather/Environmental Conditions
Quite a number of plastic pallets are either PP or HDPE materials.
However, in some instances, plastic pallet manufacturers may opt for a mixture of PP and HDPE materials. There are mainly recycled plastic pallets.
Still, the main advantage of plastic pallet here is the ability to resist most weather conditions that may interfere with the desired performance. For example, plastic pallets are resistant to humidity and corrosion. Actually, it is for this reason that you'll find most drum plastic pallets in the petroleum industries are made from HDPE material.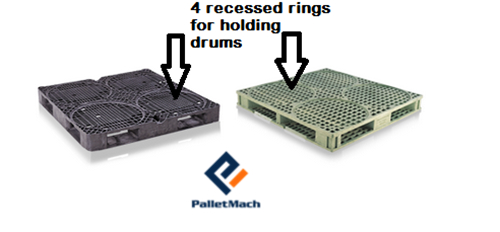 These are drum plastic pallets with 4 recessed rings each.
Furthermore, the plastic pallets are resistant to shock, stress, weak acids and alkalis, making them suitable for nearly all weather conditions. Basically, this makes plastic pallets a must-have accessory in the supply chain.
They are Popular for Their Attractive Look and Design
Well, the overall look and appearance matters a lot.
For a fact, plastic pallets come in a wide range of color options, which also helps in branding as I had stated earlier.

Clearly, plastic pallet looks more attractive than wood
Generally, plastic pallet looks nice and it is for this reason that they are popular in showrooms or retail stores for displaying goods.
These Pallets are Easy to Access & Handle with a Forklift
With a 4-way forklift entry, you can easily load and offload a plastic pallet. This increases the speed of product handling in industries, warehouses, ships, etc.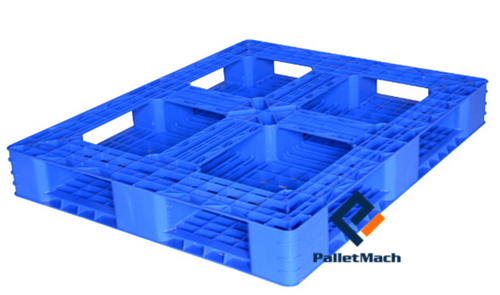 A 4-way forklift entry plastic pallet
The good thing about plastic pallets is that even with this feature they are still strong and can withstand the enormous weight. In most cases, you'll find wood pallets having only two-way forklift entry.
Available in Many Design Options (Both Simple & Complex)
Flexibility in design is a critical issue in product handling. It's only through this that you can design plastic pallets for special applications such as anti-spill plastic pallets.
This is a spill control plastic pallet
Therefore, you can mold pallets for different applications where the types of load they handle depend on their unique designs.
Take for example:
Rackable plastic pallets that fit seamlessly on racks
Nestable plastic pallets that save on space
Stackable pallets, popularly known for optimizing unitization
Furthermore, you can include other special features such as RFID identifications or anti-static property.
Such features make plastic pallets even more versatile.
In short, the simplicity or complexity of a plastic pallet design will depend on its unique specific applications.
Conclusion
Clearly, you can see that plastic pallet advantages surpass what wood pallets offer by far.
It doesn't matter the kind of product handling in your industry, there are plastic pallets that will meet the exact specifications of your requirements.
It is important for businesses in the supply chain to leverage on these 13 plastic pallet advantages to reduce the cost of operation.
For more information, queries or custom design plastic pallets, feel free to contact us [email protected].